Start a new holiday tradition this year. Buy (or make) one of these 10 Joyful Advent Calendars Kids Will Love and kick the Christmas Spirit into overdrive.
Growing up, our Grandparents use to have an Advent Calendar hanging in their home. Whenever we went there, we used to fight over who got to open the pockets first. I guess Gram and Pop didn't want to listen to us bicker anymore so they eventually started buying each of us a chocolate calendar of our own. Problem solved!
So imagine our surprise, when my sister and I realized that we never bought an Advent Calendar for our kids! Each year, we say we're going to do it. But, time and time again, we prove ourselves wrong. Hence the need for this Joyful Advent Calendars Kids Will Love list.
We're hoping that with all of these cool Advent calendars to choose from, we'll be able to make up our minds. If we're smart, we'll buy (or make) one of them before December 1st rolls around. Hopefully, this list will be the kick in the pants that we've been looking for!
But, just in case you're the DIY type, never fear! One of our Kids Crafts writers made an advent calendar with her chidlren a few years ago. I still can't believe she did it, but it's super sweet and totally doable. That Mom really loves her glue gun, which is one of the reasons we love her!
10 Joyful Advent Calendars Kids Will Love With All Their Heart
Every year, we mean to buy (or make) an Advent calendar. Sadly, it never happens. So don't be a jerk like us - buy one of these bad boys for your kids and kick the Christmas Spirit into overdrive.
Source: https://www.weknowstuff.us.com/2015/11/advent-calendars-kids.html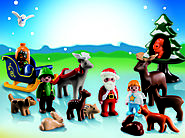 This Playmobil Forest Winter Wonderland Advent Calendar is awesome. Our kids love woodland creatures and this advent calendar is right up their alley. They are going to flip out as we add more characters to its scenic backdrop. I have a feeling that this toy will stay in the playroom long after we've packed up the rest of the Holiday decorations.
About this calendar: Enjoy an outdoor Christmas with Santa and his forest friends. The Forest Winter Wonderland Playmobil Advent Calendar contains 24 surprise items for each day of Advent. Includes a backdrop, Santa, girl figure, sleigh, mother and baby fox, mother and baby dear, raccoons, rabbits, birds, and other accessories to help complete this woodland Christmas scene. The figures can bend, sit, stand, and turn their heads to make realistic role play possible.
We always enjoy having a Nativity scene in our homes during the Holidays. This Nativity Fabric Advent Calendar by Vermont Christmas Company is super sweet. We love that the little plush figures can be moved around too. The best part? Baby Jesus in the last pocket!!
About this calendar: This beautifully crafted Advent calendar comes with velcro affixed stuffed figures. They are removed from the pockets and added to the scene each day of Advent. The final Nativity scene depicts the birth of Jesus as the Star of Bethlehem guides you closer to this holy day. You can also include a small treat in each pocket for twice the enjoyment (not included). Quality craftsmanship ensure this calendar can be used year after year. Measures 16"x25".
The Countdown to Christmas Wooden Advent Calendar adds some kid-friendly holiday cheer and charming ritual to your home with this magnetic tree. It comes with an attached wooden ornament box to keep all of the pieces nice and tidy. As a busy Mom who is forever cleaning up after her kids, I love this idea!! The Holiday poem on the back also encourages family communication. It adds a festive "read-aloud" ritual to this fun activity.
About this calendar: Melissa & Doug Toys Countdown to Christmas Wooden Advent Calendar. Set includes: 24 unique magnetic ornaments plus a shining star for Christmas day. Kids can pick a favorite design to place on the tree each day and follow the numbered outlines to fill the tree right up to Christmas. They'll also love to switch, move, and rearrange the pieces to customize their very own tree over and over again! Recommend Ages: 4 years and up.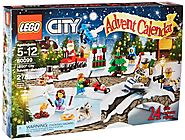 Do your kids love building things? Do you constantly step on LEGOs whenever you enter the playroom barefoot? Then you'll definitely want to pick up this awesome Advent Calendar Building Kit by LEGO! Th is Advent Calendar comes with 6 mini-figures and many other Christmas-themed surprises. You can meet Santa, decorate the Christmas tree, build a snowman or blast off into space aboard the shuttle. Help the police catch a crook, take a cool remote-controlled car for a spin or cook marshmallows on a festive log fire! This awesome set also includes an array of LEGO mini-figures and models that can be integrated with your favorite sets. There's a town clock, snow scooter, ice skate stand, airplane, bulldozer and more!
About this calendar: The LEGO City Advent Calendar includes the following pieces: 6 mini-figures (Santa, policeman, crook, girl and 2 boys), 2 mini-cars with remote-control elements, ice skate stand, hot chocolate stand, airplane, bulldozer, streetlight, Santa's chair, Christmas tree, town clock, gifts, train with wagon, police scooter, dog, snowman, log fire with marshmallows, and a space shuttle with rockets.
This Christmas Tree Advent Calendar by Constructive Playthings is perfect for little kids. With its happy, jolly Snowman front and center, and secret little boxes full of ornaments, little kids will love opening and shutting the doors each day.
About this calendar: Each day brings a new discovery with this Advent Calendar. By the 24th day, it's a fully decorated Christmas tree. Retrieve the ornament hiding behind each lift-up door and then hanging it on one of the 24 hooks.
Now if you want something a little more upscale, this Lighted Santa's Advent Wooden Workshop by ART & ARTIFACT is for you. Unlike its red and green sisters, this calendar is subtle in its Holiday spirit. The enchanting advent workshop is illuminated from behind with 10 LED lights for a perfectly golden glow. Kids will love playing with the figurines and finding surprises in each drawer. I love that the drawers are empty and can be filled with little trinkets and candies that you pick out. This one is really special...
About this calendar: An enchanting family heirloom you'll bring out every Christmas. Inside the workshop are Santa, his sleigh, elves, a fireplace, furniture, presents and more. Fill the 24 drawers with candies, notes, or small gifts -- something different each year. Flip the switch on back and the workshop lights up with 10 LED lights. Crafted in wood. Takes 2 AA batteries (not included).
I have to say, I'm quite fond of this little cute Gingerbread House Advent Calendar. With all of its secret, interchangeable wooden drawers, it's full of whimsy. I also like that there's enough room in each drawer to stick some candies, a note, or some small toys into them. My kids will love that they can move the drawers to different locations too.
About this calendar: HearthSong® Exclusive. This festive wooden gingerbread house includes 24 interchangeable wooden drawers. The drawers are interchangeable; you can change their order day-to-day or year-to-year to add to the fun. Decorated with timeless holiday appeal, it's a great way to start a family tradition.
I have wanted this Noah's Ark Advent Calendar for years. Yet every year, I forget to buy it. Then its halfway to Christmas and I think, "Ugh. Wait until next year!" Well, this year, I'm way ahead of schedule and cannot wait to finally buy it for myself. I mean the kids. Yes, the kids. Because a grown woman hiding on the floor playing with all of these gorgeous wooden figures would be just weird, right?
About this calendar: This charming, interactive advent calendar heralds the approaching holidays with animals from Noah's menagerie. Starting December 1st, open one numbered, magnetic door each day to reveal a new animal. By the time Christmas arrives, all 24 of them will be assembled on the deck, two by two. Includes: Noah, and one pair of each - sheep, elephant, giraffe, cow, rooster, monkey, zebra, pig, lion, tiger, goose, and chicken, plus a pair of doves for the roof. Wood resin and stainless steel.
This year, why not take a completely different approach to an advent calendar. Instead of toys or sweets, how about crayons? I would LOVE to have this at my house! Hint, hint!! This Crayola Advent calendar features 24 daily holiday-themed crafts help kids count down to Christmas.
About this calendar: Each numbered door reveals a Crayola item and corresponding activity. Great gift for children ages 4 and up!
Our kids l-o-v-e-d Little People when they were younger and I really need someone to have a baby so I can but this stat! This super cute Advent Calendar includes 24 Little People friends & holiday-themed accessories. Open a door every day to find something new for holiday play!
About this calendar: Open a door every day to find something new for holiday play! Start on December 1st and end on December 24th. Advent Calendar includes 24 Little People® friends & holiday-themed accessories. Watch the excitement build each day as Christmas gets closer! A great way to teach numbers & counting, too!
0