This shop has been compensated by Collective Bias, Inc. and its advertiser. All opinions are mine alone. #BigLotsHoliday #CollectiveBias Millionaire Bars: A Tasty Gluten Free Cookie Recipe. They may take a little while to make, but they're pretty and delicious too! A Cookie Exchange Idea.
Have you ever seen a recipe online and wondered if you could actually make it yourself? I have – numerous times – and our Pinterest board is full of all of these amazing recipes. One of my current obsessions revolves around Millionaire Bars.
These delicious little biscuits are made up of three layers. The base layer is made of shortbread. The middle layer is made of caramel. The top layer is made of chocolate ganache. These delectable little cookies are then cut into rectangular-shaped bars. Millionaire Bars always look so gorgeous in pictures and I'm such a sucker for bite-sized snacks.
I've been wanting to make them forever, but I've been a bit wary of the process. You see, Daniele is the sister who can whip up pie crusts from scratch. I'm the sister that uses store-bought crusts and calls it a day. She bakes pies. I bake crumbles and crisps. Her cheesecakes are left plain – without cracks. Mine are covered in a fruit topping so no one is the wiser.
So when it came time for me to actually make these delectable little treats, I was more than a bit nervous. Naturally, I did my due diligence and read over a million (haha!) recipes before taking a stab at it on my own. But, I knew I needed to tweak a few things in order to be able to make it work for me. Plus, I wanted them to be completely gluten free so I had to make sure that I read the labels carefully.
For starters, I knew my Millionaire Bars recipe had to be as simple as possible. Some recipes call for making caramel from scratch with brown sugar and corn syrup, but I've always used sweetened condensed milk, so I was sticking with that plan. I also got over the idea of making the shortbread base layer from scratch. I know that Bob's Red Mill makes a gluten-free shortbread cookie mix and my local Big Lots always has it in stock. So why mess around with making it from scratch when I could use something that's already been perfected, right?
So I zipped over to our local store and headed over to their Bob's Red Mill section. Yep, you heard me right. My local store has an entire section devoted to quality, name brand, Bob's Red Mill products and I shop at this location just to get my hands on them. Seriously, they have soup mixes, baking mixes, granola and a schlew of their other products. I always look a little bit wild as I pack up my cart with them whenever I go. While I was there, I picked up some new cookie racks because mine were looking a bit gnarly, some cute seasonal decorations, and a new white dinnerware setting because I broke one of my white dishes. Eek!
But, back to the Millionaire Bars. The key to making them, in my humble opinion, is to take your time. Pay attention to what you're doing. For example, when turning the sweetened condensed milk into caramel, do not walk away from the stove. You know, like I did because the dogs were barking their fool heads off at the neighborhood Tom cat that was walking across our lawn. Yep – because in those two minutes that you're yelling at the dogs to "Be Quiet!" – your caramel is going to burn and you'll have to start all over.
I would also try using a 9″ * 13″ baking pan next time. I used a 9″ * 9″ brownie pan, but I feel like the base layer was a bit thick. I'd much rather have a thinner shortbread layer, but again, that's just me. Regardless, these tasty little bars really do plate well once they've had a chance to harden. The kids couldn't believe that I made them "all by myself" because I usually stick to messier looking recipes.
Give them a whirl this holiday season and let us know your thoughts on them. Do you have any tweaks that you'd make? Would you make your shortbread from scratch? Let us know!
Note: To make sure your cookies are completely gluten free, please read all of the listed ingredients below closely and only purchase gluten free varieties.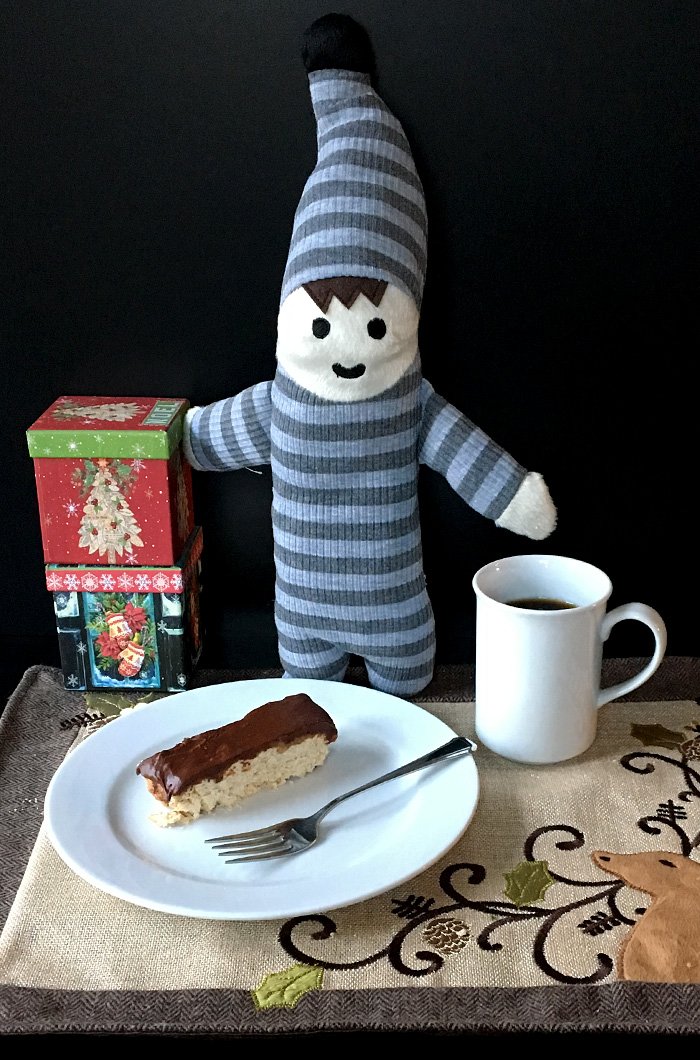 MILLIONAIRE BARS
Shortbread Cookie Layer Ingredients:
1 package (21 ounces) Bob's Red Mill Gluten Free Shortbread Cookie Mix
1 1/2 sticks butter, cut into pieces, room temperature
1 large egg yolk
2 tablespoons water
Caramel Layer Ingredients:
1 can (14-ounces) sweetened condensed milk
1 tablespoon butter
Chocolate Ganache Layer Ingredients:
6 ounces semisweet chocolate, finely chopped
3 tablespoons heavy cream
Directions:
Step 1: Preheat the oven to 375 degrees. Line a brownie pan with parchment paper.
Step 2: Make Shortbread according to package directions. After shortbread has cooled, lift shortbread out of the brownie pan and place on top of a baking sheet – you will need the stability to cut the bars later on.
[Just in case you tossed the bag: In a large mixer, beat butter on medium speed until smooth and creamy. Beat in egg yolk, then water. On low speed, beat in shortbread cookie mix in 1/2 cup increments, until thoroughly blended. The dough will look dry and crumbly. Gather dough into hands and massage until very smooth. Pack dough evenly into a brownie pan and bake for 12 minutes. Remove from oven and cool on a wire rack.]
Step 3: In a heavy-bottomed saucepan, combine the sweetened condensed milk and butter over medium-low heat. Slowly bring the mixture to a boil, stirring continuously. Do Not Walk Away…Or Even Blink Your Eyes!
Continue stirring until the mixture becomes thick and amber in color, approximately 15 minutes. Remove from heat and allow to cool slightly. Pour the caramel over the cooked shortbread and spread evenly with a spatula. Cool to room temperature.
Step 4: You can make the ganache with a makeshift double boiler like this way, or microwave it slowly. If you want to use your microwave, place chocolate and cream in a microwave-safe bowl and microwave in 30-second intervals, stirring between each interval until the chocolate is melted and smooth. Do not try to speed this up or your chocolate will seize up! Spread the chocolate over the cooled caramel layer.
Step 5: Refrigerate the bars until the chocolate ganache is set, at least 1 hour or overnight. When you're ready to serve them, transfer bars to a cutting board and cut into squares or rectangles. Store leftover bars in an airtight container in the refrigerator for up to 3-4 days.
Happy Holidays,
Denine
1